Clear
Large
Explicit
Appropriate
Readable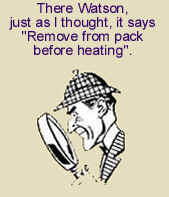 Welcome
You Are Visitor Number
Since 07/05/2013
If you are "Visually Impaired", trying to read the cooking/storage instructions, and use by date, of many pre packaged food products is almost impossible.
Exotic fonts, strange colour combinations and very small print are just some of the problems encountered.
The aim of "CLEAR Labelling" is: To help Visually Impaired people, by encouraging retailers to improve the labelling, presentation and packaging of their products.
CLEARLY
A Good Idea
__________________________
IN CASE YOU ARE WONDERING…..
Yes this site is run by people who are visually impaired, in fact the author is "registered blind", and is fed up with "bad labelling".

"I used to be Partially Sighted,
Now I am
Visually Impaired".
So is this a problem?
Well it can be when I go shopping.
The Problem:
BAD LABELLING ON FOOD PRODUCTS
______________________
Labelling should be
Clear
Large
Explicit
Appropriate
Readable
C L E A R
LABELLING
When designing packaging, little or no thought is given to the problems Visually Impaired people face, when purchasing or using their products. The important factors seem to be, stylish or distinctive labels, eye grabbing colours and sex appeal. Even if the product is a pack of "Boil In The Bag Kippers".
Web Site Design& maintenance
By
Pinkshark
Clear Labelling
Copyright© Clear Labelling 2006
More Info on Copyright