Well Perhaps Not
This page is aimed primarily at people with a visual impairment.
However
If you are not, still read on, as you may find the gadgets or services mentioned here of some interest.
__________________________
This company makes a rang of devices called "Video magnifiers". These devices look like a normal computer mouse, but connect o your TV. Or P.C. depending on the model, and magnify the image the mouse is passed over.
Example
Each of the products is available in a "Black and White" or "Colour" format.
www.bierley.com
______________________
Disclaimer
Just the usual rubbish to cover ourselves.
Clearlabelling does not have any financial interest in any of the products/services mentioned on this siate.
While we may recommend the products/services we do not accept any liability in the use thereof.
Ergotron LX Desk Mount LCD Arm

This is a very useful bit of kit. It allows the monitor to be moved to almost any position,
so if one member of the family is visually impaired they can move the monitor forward in order to see it better, while the rest of the family can return it to its normal position.
This device allows the monitor to be moved up, down, forward, backward and moved between portrait and landscape modes.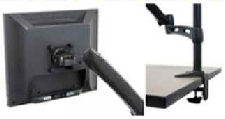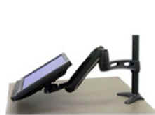 This product is robust and well made, assembly is quite simple, but adjustments of the settings can take some time -
"well it did me".
It is not cheap at around £85, but I consider it well worth the money.
This device is available for many sites on the web, but shopping around, I found the best value was.
Ergotron LX Desk Mount LCD Arm (Black)