So You want to donate to
Clearlabelling?
(Well I Hope So)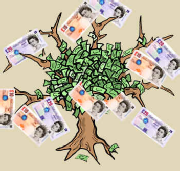 I am sure we all wish for this
But until then we
always have THIS
The Clearlabelling web site is run by volunteers who feel strongly about the issue of Clear Labelling.
We all give our time (and money) to help run the site.
As the site has expanded, we have moved from a "Free Hosting" to a commercial hosting site
This is Good news
and Bad news.
GOOD
We can now offer more on the site
BAD
It cost us money.
_________________________________________
So what will wed do with your "Donation" ?

Well Perhaps not!
We will use it to help pay for the new hosting and the new domain name. Plus the cost of postage, for all the letters we write to producers and retailers complaining of about
BAD LABELLING.
So if you can just afford even £1 that would help us.
Donate
CLEARLY
A Good Idea